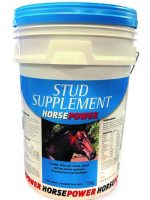 Horsepower Stud Supplement provides weanlings and yearlings with vital essential amino acids (proteins) as well as the trace elements and minerals required for growth and development.
Optimal Calcium : Phosphorus ratio for sound bone development and growth
Horsepower Stud Supplement is a soya based pelleted product and is boosted with very high levels of the essential amino acids often deficient in equine diets (especially lysine and methionine).
Do not add salt to the diet when feeding Horsepower Stud Supplement.
Download the Stud Supplement brochure here
Feeding Instructions – Simply add 400g per day as a supplement to the diet of broodmares and yearlings
For weanlings (6-12 months) add 200g per day to the diet.
Horsepower Stud Supplement contains Soybean Meal, Canola Meal, Cottonseed Meal, Dehydrated Molasses, L-Lysine, Vegetable Oil, Calcium Carbonate, Dicalcium Phosphate, Salt, Zeolite, Horsepower Mineral and Trace Element Premix.
Available in 15KG BUCKET
Quality Equine Nutritional Products
Toll Free 1800 681 117