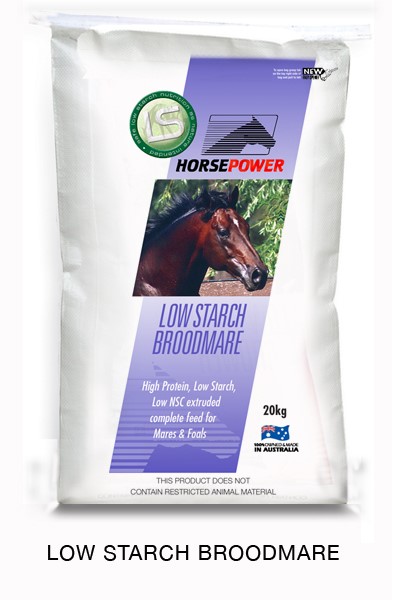 Low starch, low NSC, high protein, extruded complete feed for broodmares.
There are many benefits in providing a low starch, low NSC diet to broodmares. In this article Why studs should feed less starch respected veterinarian Dr David Wood BVSc, MRCVS explains those benefits and also looks at the potential issues that high starch diets can cause.
Low starch, high protein feeds may also be suitable for use in aged horses and those prone to digestive upsets or Laminitis.
The brochure can be downloaded here.
Ingredients: Lucerne meal, mill mix, lupin, vegetable oil, molasses, calcium carbonate, dicalcium phosphate, salt, vitamin E, zeolite, Horsepower vitamin & trace element premix.
Feeding Rate:
Empty Mares 2-3kg per day
Pregnant Mares (up to 9 month gestation) 3-4kg per day
Pregnant Mares (9 months to term) 4kg per day
Lactating Mares 5-6kg per day
Adjust intake according to body condition.
Do not allow mares to become over fat prior too foaling.