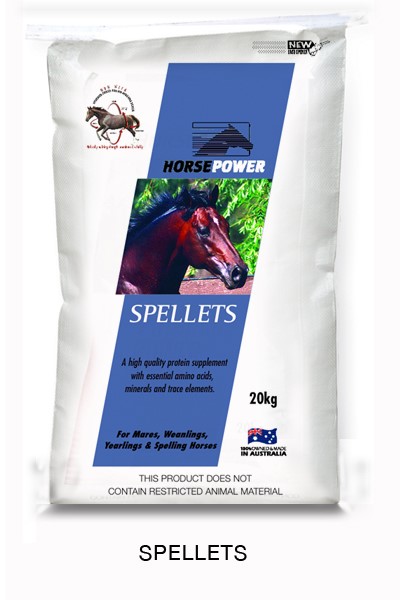 Horsepower Spellets are designed to provide simple feeding efficiency for the stud and spelling farm. They are a pelletised form of supplementation, common known as a "balancer pellet", and are primarily designed to supplement a grain based diet.
Horsepower Spellets formulation is based on thousands of blood and pasture analysis and so contains significantly higher levels of minerals and trace elements.
For further information regarding Horsepower Spellets, click here or the Spellets brochure.

Notes:
*Hay (meadow, clover or lucerne) or pasture ad-lib to be included in all diets. To find out more about the importance of roughage in a horse's diet, click here
Horsepower Spellets include high quality protein seeds, meals and grains selected from soybean, canola, bran pollard, cottonseed, hominy with added lime, dicalcium phosphate, salt, zeolite, dehydrated molasses and a Horsepower Premix providing essential minerals, trace elements and vitamins for stud horses.
Available in 20 kg bag, bulka bags and bulk.
Quality Equine Nutritional Products Toll Free 1800 681 117