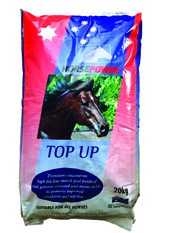 Horsepower Top Up for building top line, lean muscle mass and condition.
A highly palatable, premium quality extruded product that harness the recognised benefits of the naturally occuring plant sterol Gamma Oryzanol.
Horsepower Top Up combines the proven muscle building power of Gamma Oryzanol, with the highly digestible cool energy of fat and quality protein sources to produce lean body mass, improved top line and a glossy, shining coat. The addition of Vitamin E adds to the antioxidant effect.
Benefits of using Horsepower Top Up:
For positive effect on weight gain
Improved muscle to fat ratio
Increased muscle definition, top line and coat condition
Improved appetite
A safe energy source for horses prone to laminitis and tying up
A source of "cool" calories for horses prone to heating up on grain diets.